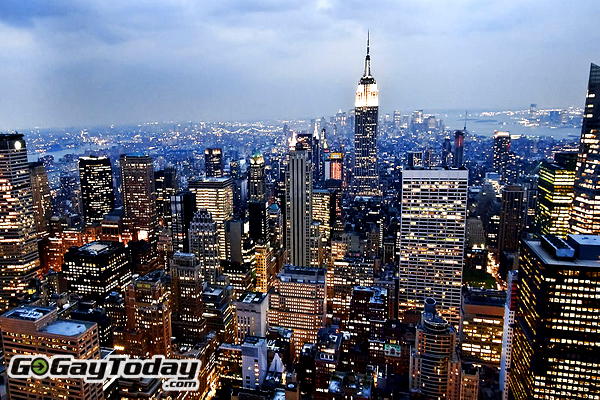 Welcome to New York City!
New York, aka the Big Apple, is like no other city.  The center of diversity, culture and style and one of the gay friendliest cities in the world.  This is the City that never sleeps and you will be unable to see, live and enjoy everything in one trip.  World class hotels, restaurants, sights, museums… this city has it all.  Shop the famous designers of New York's 5th Avenue. Take in a Broadway show. And, then party the night away at one of New York's hot clubs.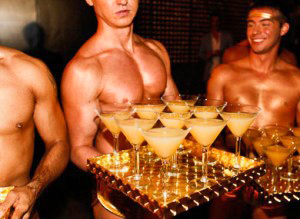 Midtown is the center of most visitors' trips to New York City. The beautifully restored Grand Central Station Terminal, Chrysler Building, the United Nations complex, Rockefeller Center, St. Patrick's Cathedral, and Trump Tower. There's the awesome New York Public Library, and behind it is the lovely Bryant Park, which hosts free movies and music events in summer. And what says New York better than shopping on Fifth Avenue?
Midtown also includes the new, revitalized Times Square and the Broadway Theater District.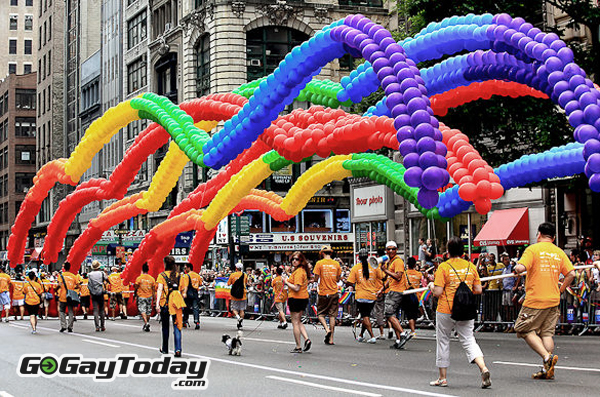 Gay life is everywhere in New York City. Nightlife is vivid and overwhelming. You can choose from endless variations on gay bars and clubs: from dance clubs to cabaret piano bars, local intimate bars to trendy gay lounges. Most bars are opened from 4pm til 4am.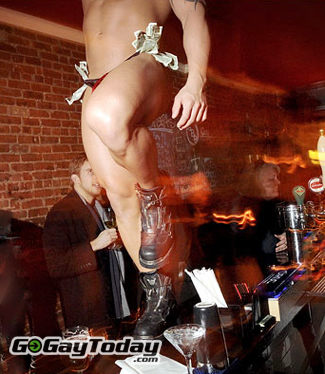 Originating in New York City, the Gay Pride Parade is actually just one rainbow-colored event among many that goes on in NYC during Gay Pride Week.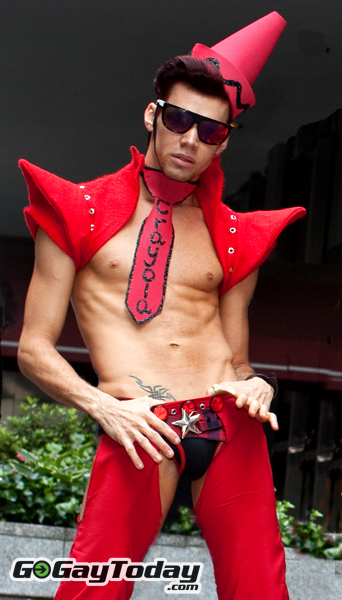 Typically, the NYC Gay Pride Parade is held on the last Sunday in June. Also celebrated about the same time is the annual Gay Pride rally and the annual Dance on the Pier, all culminating in the big parade and the Pridefest street fair wrapping up Gay Pride Week.
New York is a city made up of small neighborhoods. Each New York neighborhood has a distinctive character, but what they all have in common is a gay friendly atmosphere. Chelsea and Greenwich Village have the greatest concentration of gay life and The Upper West side is not far behind.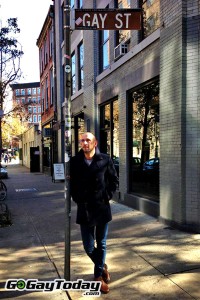 Greenwich Village - where the Stonewall riots of Christopher Street awakened the gay rights movement and Pride marches all over the world.  The Village is home to the l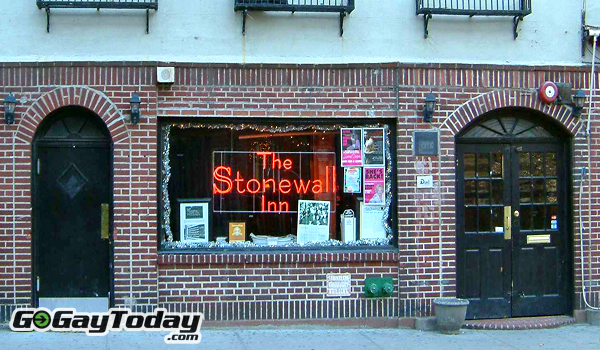 argest gay and lesbian population in New York City. The Village is made up of quaint brownstones bordered by lovely gardens. The Village is also home to the country's largest Halloween parade. In Washington Square Park, one will find skate boarders, jugglers, stand-up comics, sitters, strollers, sweethearts, chess players, fortune tellers, and daydreamers converge and commune. In the commercial areas, one will find hip-boutiques and cafes and restaurants of all kinds. At night, Greenwich Village comes alive with sounds from late-night coffeehouses, cafés, experimental theaters, and music clubs.
Chelsea - stretches from 15th Street to 34th Street (give or take) between the Hudson River and Sixth Ave. Chelsea has a wide selection of trendy bars, clubs and restaurants which are concentrated around Eighth Avenue.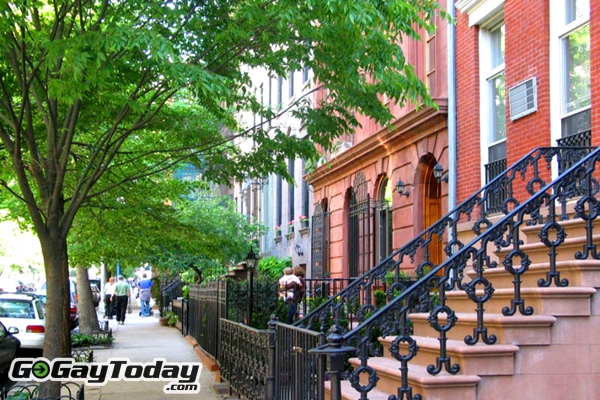 East Village – a bit more of the bohemian version of the West Village.  A young person's neighborhood, with its experimental music clubs and theaters and cutting-edge fashion. New York University is in the area, so there's no shortage of clientele here. Foodies take note: this neighborhood reportedly has the most varied assortment of ethnic restaurants in New York City. For more trend-setting street life, head east toward Alphabet City (named for avenues A, B, C, and D)- still a little rough around the edges but with many reasonably priced, fun, and gamut-running places to eat, drink, and shop…and, if you're really getting into the scene, some very cool tattoo parlors.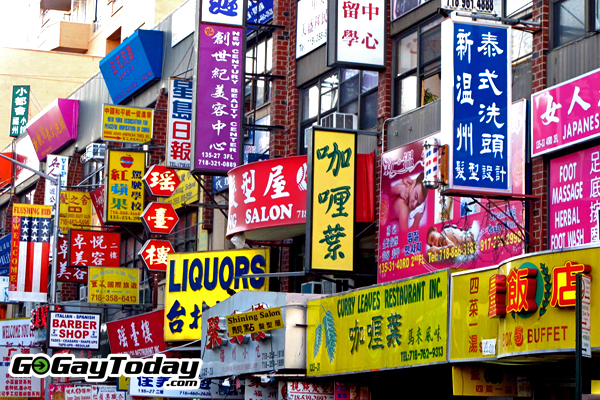 Other notable neighbourhoods worth a visit include SoHo & TriBeCa (with converted warehouse buildings and hot dining locations); Harlem (a Mecca for African-American culture); Chinatown (the largest Asian community in North America has exotic shops, markets and every imaginable type of Chinese cuisine); Little Italy (with the heavenly aromas of the Italian bakeries and restaurants around Mulberry and Grand Streets); Lower East Side (New York's landmark historic Jewish neighborhood, where the New York garment industry began. Today it is a favorite of bargain shoppers and possibly the best place to get a great pastrami sandwich); Union Square (the heart of Off-Broadway); and the Upper East Side (old money and glamorous sophistication, with this stretch of Park Avenue being one of our city's most coveted residential addresses, and world-class cultural institutions such as the Metropolitan Museum of Art and the Guggenheim Museum).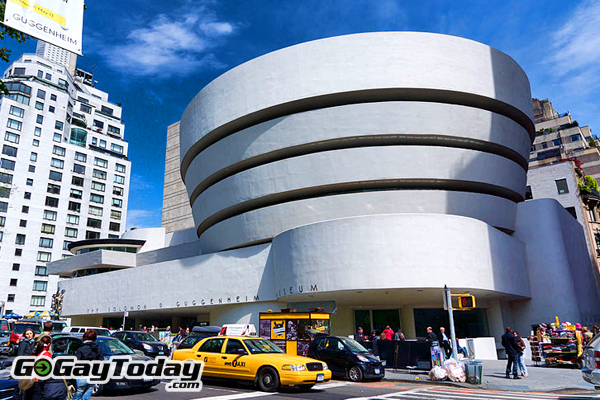 Of course in addition to excellent musems, including the the MOMA and Guggenheim, there are many NYC landmarks worth visiting: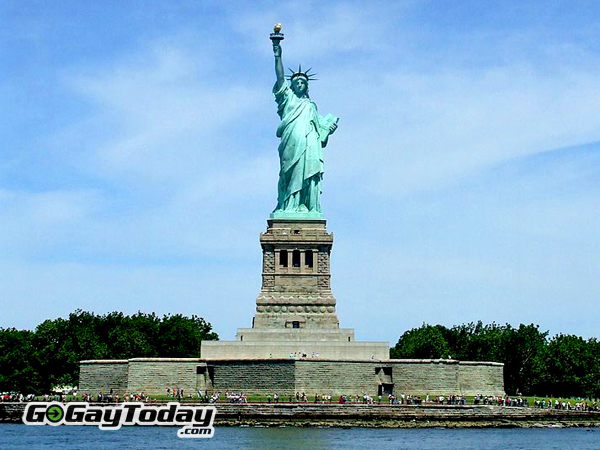 Statue of Liberty on Ellis Island.  Dedicated on October 28, 1886 "The Statue of Liberty Enlightening the World" was designed by Frederic-Auguste Bartholdi and presented by France as a gift to the United States. She stands 151 feet high, and weighs 225 tons. Lady Liberty is made of copper, with a nose four and a half feet long and mouth three feet wide. Her waist measures 35 feet around.  Don't waste your precious vacation time in New York City in long ticket lines! The Skip the Line: Statue of Liberty and Ellis Island tickets are available HERE.  Enjoy a memorable morning of sightseeing in New York City, including a 1-hour cruise of New York Harbor.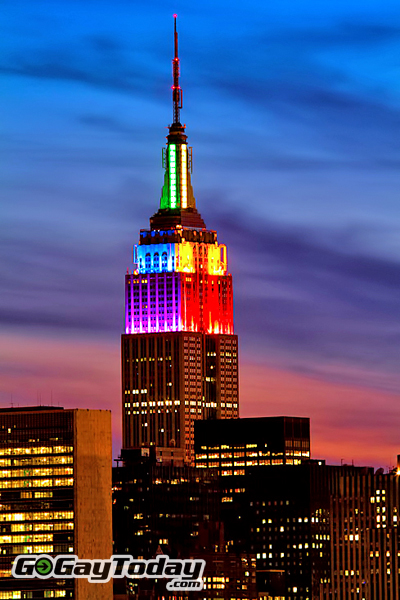 Empire State Building, which since 9/11 is again the tallest building in the City.  The Empire State Building was a beacon of hope for a recovering world economy when it rose defiantly in Midtown Manhattan during the height of the Great Depression. Today, just ahead of visiting the Statue of Liberty, the Empire State Building is THE most popular New York City attraction, and remains a beacon to tourists from around the world who come to take in the iconic New York City experience high atop the 86th floor observation deck.  Thousands of people visit the Empire State Building daily, so be prepared for long lines snaking up to the ticket counter.  You can get your express pass and skip the lines by getting your tickets HERE.
Central Park, 843 acres of landscaped and recreational areas including a zoo, carousel, a reservoir, an ice-skating rink, a boathouse where you can rent rowboats, and plenty of trails for walking, jogging, bicycling, and horseback riding. It's a park for all seasons, from ice skating in winter to free, summertime performances of Shakespeare's plays, a Victorian-themed amusement park, and concerts on the Great Lawn that crescendo to dazzling displays of fireworks.  Enjoy a classic experience in New York City and enjoy an open-air horse drawn carriage ride through stunning Central Park!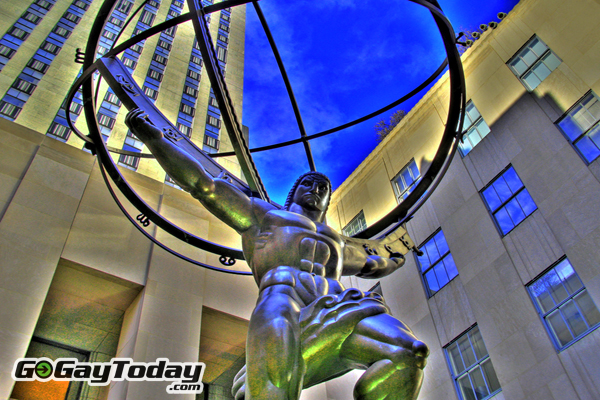 Top of the Rock. Although the Empire State Building Observatory remains THE traditional place to see Manhattan for tourists and visitors, an alternative view is at Top of the Rock – high atop "30 Rock" in Rockefeller Center.  30 Rockefeller Center and its famous observation deck was originally opened during the height of the Great Depression in 1933. However, the deck was closed to visitors in 1986 and, later restored, opened its doors again in 2005. Today, Top of the Rock continues to awe visitors with a more spacious and less crowded alternative to the Empire State Building in order to take in a 360 degree view of Manhattan, including a view of the Empire State Building. Buy your tickets HERE.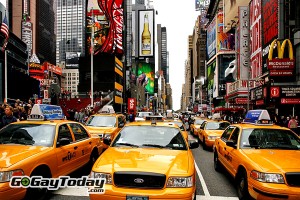 New York City is a very easy city to access and travel around in. Arriving into New York City is very easy with three airports, major train service, bus service and major highway systems all serving the city. Once in New York City, you can easily get around. Most sites within Manhattan are within walking distance. This is the real way to take in New York City and live like a New Yorker. However, if your footsies get tired, taxis and subway systems blanket the city.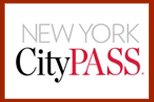 A great way to see all the sights is the NYC Pass.  It includes admission to the must-see attractions in NYC: Statue of Liberty and Ellis Island OR 2 hour Circle Line Harbor Cruise,  Empire State Building Observatory, Guggenheim Museum entry OR Top of the Rock general admission, American Museum of Natural History entry, Museum of Modern Art entry, and The Metropolitan Museum of Art.  The Pass also gives you shopping and tour discounts, such as a 15% off all day savings certificate at Bloomingdale's.  Get your NYC Pass HERE.
John F. Kennedy International Airport – JFK, is approximately 15 miles southeast of midtown Manhattan. It takes about 30-45 minutes by car. JFK is the biggest of the New York airports and handles domestic and international flights.  Newark, NJ – EWR, is in Newark, New Jersey and handles both domestic and international flights. It is relatively close to Manhattan – approximately 16 miles southwest from midtown Manhattan and is especially convenient from and to the west side of Manhattan.  Enjoy a hassle free, seamless ride to your hotel in the most luxurious and spacious transfer vehicles in New York City!  No waiting in lines for transportation, no frequent stops and no charge for excess baggage.  Book your transportation HERE.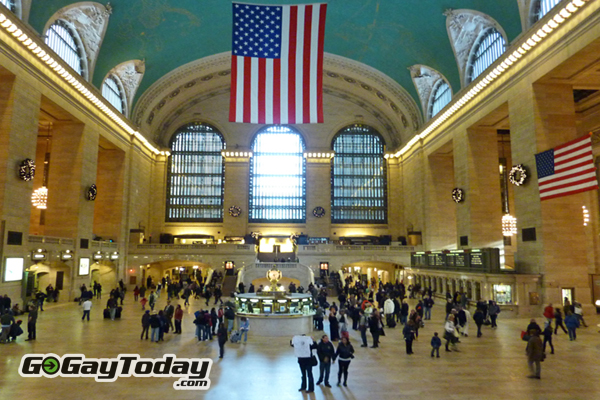 New York City has two main rail stations, Grand Central Terminal and Pennsylvania Station. Grand Central is on the East Side, in midtown, and Penn Station is on the West Side near Macy's, just below midtown. Both are served by  bus and subway lines.
Taxi's in NYC are everywhere and hailing one is easy. Just stand on the corner, hold up your hand and a taxi will appear. Service is very reasonable. All taxis will have meters so you will be able to watch your fare.  The subway in New York City is safe and easy to use. Visitors will find the subway systems very clean and efficient, however if several of you are traveling together, you will often do better by hailing a cab.
Of course, no trip to New York is complete without taking in a Broadway Show. Yes, you may have seen a Broadway musical from a touring company that came to your town, but that does not even compare to the performance you will see on Broadway in New York. Check out the hottest shows and pre-book your tickets here to avoid any disappointment and hassle when you are in NYC.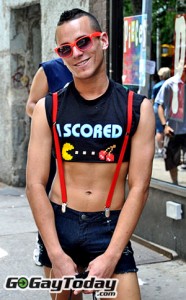 After your show, it's easy to pop into one of the gay bars in Chelsea, a few blocks west of Broadway and Times Square.  Enjoy your time in New York City!