LA is one big coastline, so there is lots of beach! But here are the more popular spots.
Will Rogers State Beach: Santa Monica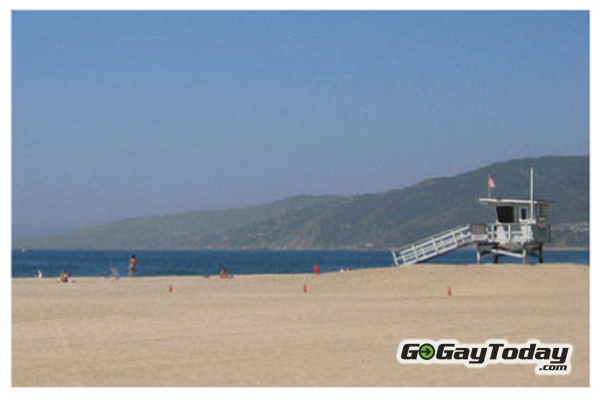 This is the only "gay" beach that is actually in Los Angeles. Often lovingly referred to as "Ginger Rogers" Beach, you can reach it Santa Monica Blue Bus 9. Your best bet for for finding a good mix of gays, lesbians and a few straight folks that are mostly clueless. Most of the general beach attire in So. Cal. is longer board shorts, but you will know you're in the gay section when you spot the short shorts and speedos. Most of gays don't actually go swimming as the water quality can be not the best, but it's a good spot to socialize and meet people. There is a snack bar, public restrooms and parking. And just across Pacific Coast Highway ("PCH") is Marix Tex Mex Playa for margeritas after the sun (118 Entrada Drive, Santa Monica).
The gay section of Will Rogers is just off PCH near the intersection of West Channel Road. Parking is available on the ocean-side of the PCH, but it's pricey. Check around the street West Channel. Two pedestrian tunnels lead you under PCH to the beach – head directly west of the parking lot and volley ball courts, around Lifeguard Station 18.
El Matador (Robert H. Meyer State Beach): Malibu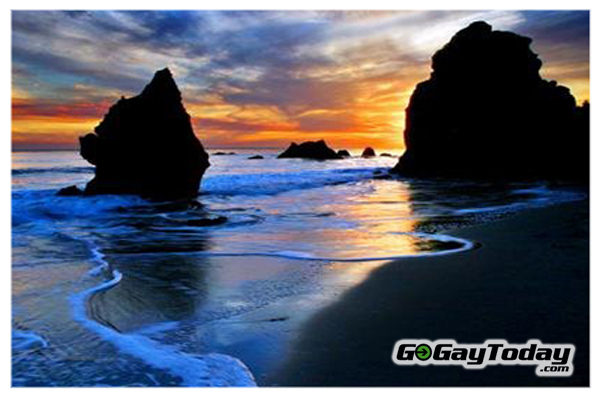 On the west end of Malibu you'll find THE place to go to relax and really take in the beauty of the coastline. The beach (purportedly a gay nude beach), is an isolated cove that is non-existent at times during high tide, with beautiful rocks and few people. 10 miles west (up the coast) from Malibu along Hwy 1. Limited parking.
West Street Beach: Laguna Beach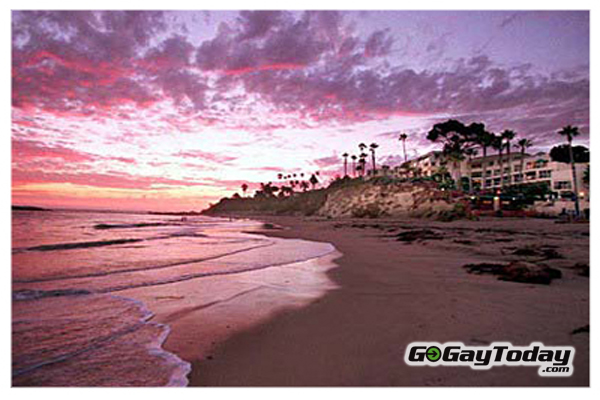 Lots of people know Laguna Beach from the reality TV series of the same name. But Laguna has been a gay hot-spot for decades and was the haunt of many celebrities, including most notably, Rock Husdon. In its heyday, Laguna was hoping with gay bars, gay restaurants and quite a cruisy beach, day and night. Laguna is still a great place to visit for its quaint shops and restaurants and West Street is still a "gay" beach, but the hordes of hot men have mostly gone, along with all but one remaining gay bar. Nonetheless it is a beautiful stretch of coastline and worth a visit. If you go in the water be careful, as there can be a very swift undercurrent and large waves. Parking is all on the street and can be tough during the summer months. Laguna Beach is located on PCH between 133 (Laguna Canyon) and Crown Valley Parkway. You can take either the 5 or 405 fwys to the 133, and continue til it ends at Main Beach Laguna, turn left and continue up PCH to West Street. It's a long staircase of stairs down the beach.
San Onofre State Beach: San Clemente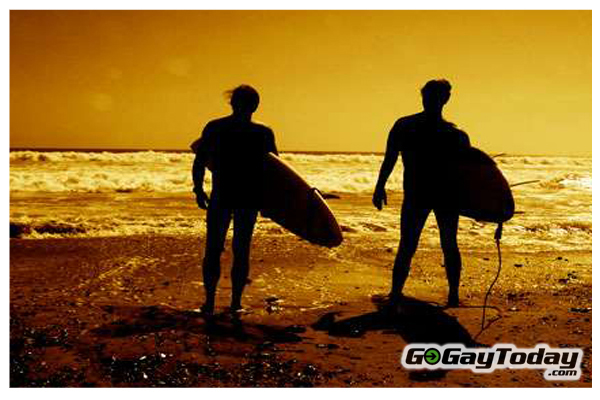 Lying just past the nuclear power plant is San Onofre State Park, which many use for camping, surfing, hiking and sunning. Down the cliffs was a nude beach for many straight sunbathers, with the gay section a good 45 minute walk down the beach on the other side of the fence within the boundaries of the Camp Pendleton military base. Nudity is on longer permitted and the military have attempted to close off the fence to prohibit people from crossing beach. Some gays still go to lay out in the buff and cruise the cliffs. Mostly older crowd, some military and an occasional naked surfer. As this is a State Park, you need to pay daily (or a seasonal pass) to drive your car in. Once in the main gate, drive along the one road until it ends at Trial 6. Park where you can (be mindful that some parking is for campers only) and walk down the steep dirt trial all the way to the beach. Don't pack a lot of stuff – its a good workout getting down and back up. Once on the beach, turn to you left and walk 30-45 minutes until you see a metal fencing which indicates you are entering Camp Pendleton military base… keep walking until you see naked men! Exit the 5 fwy at Basilone Rd and follow signs to San Onofre State Park. You"ll pass the San Onofre Nuclear Facility on your right. At the end of the road, you'll reach the park entrance.