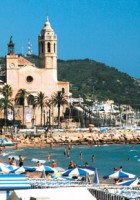 Sitges is home to some fun and beautiful beaches.  Whether you want a party atmosphere, au natural, or a quieter spot, it all exists within this seaside town.

Playa de la Bassa Rodona – THE Gay Beach 
The closest and most popular beach in town.  5 minute walk from the town center.  To get there: Turn right when you get to the sea front. It's located between the Red Cross hut and Picnic restaurant.  Bake in the sun, go for a swim (you can walk out quite a distance) and meet new friends.  It's right across from the Hotel Calipolis.  Lounge chairs and umbrellas for rent.