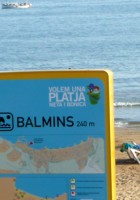 Sitges is home to some fun and beautiful beaches.  Whether you want a party atmosphere, au natural, or a quieter spot, it all exists within this seaside town.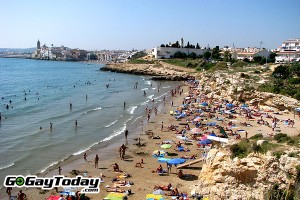 Playa Balmins – Gay & Mixed Nudist Beach
About a 15 minute walk from the center of town past the church and Playa San Sebastian.  The first section of this beach from the main path entrance is mainly straight.  A short walk to you right along the water and you'll come to the gay section – you'll know it when you're there.  Throw down your towel and take off your clothes!  There is a small hut selling food and drinks on the "straight" section.  From town, walk towards the church, go past it, pass the following long beach (San Sebastian), then up the hill past the white cemetery (keep right) and you'll see it to your right. Down the hill and you're there.  Lounge chairs and umbrellas for rent.