Welcome to Gay Amsterdam.  Europe's most Liberal City!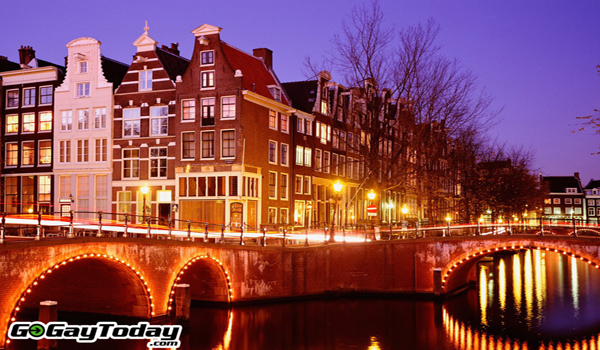 Amsterdam is a city designed for the perfect gay vacation! Well known for its legal red-light district and "coffeeshops" – be careful which brownie you order – it's also the cultural, artistic and gay nightlife capital of the Netherlands.
On first glance, the city appears to be a maze of identical streets, lanes and canals traversed by bridges (1,281 to be precise) – but it is actually quite easy to navigate. Laid out along radiating canals that were built during the 17th century, Amsterdam is a compact city and very easy to explore by foot.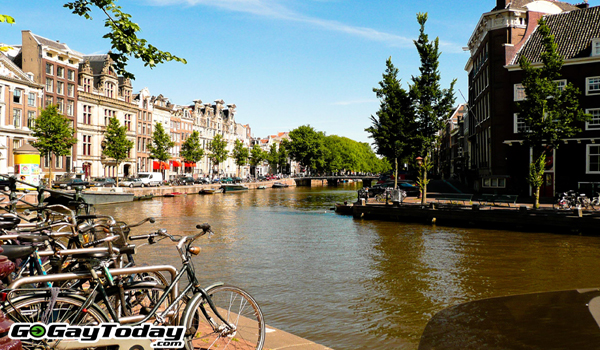 Amsterdam's prosperity was at its height in the 17th century when the city was the most important sea port in the world bringing back spices and riches from the Dutch East Indies. It was during this time that the city's iconic canals (165 in total) were constructed to form a series of concentric semicircles which radiate out from the central old town (bounded by the most centrally located canal, the Singel.) Located inside this is the red light district around the Oude Kerk (Old Church), the Nes Theatre street, a maze of charming old fashioned streets and quiet canals, and the Royal Palace on Dam Square.
Also inside the Singel canal are the pedestrian shopping streets of Nieuwendijk and Kalverstraat, which run north and south from the Dam and the central train station.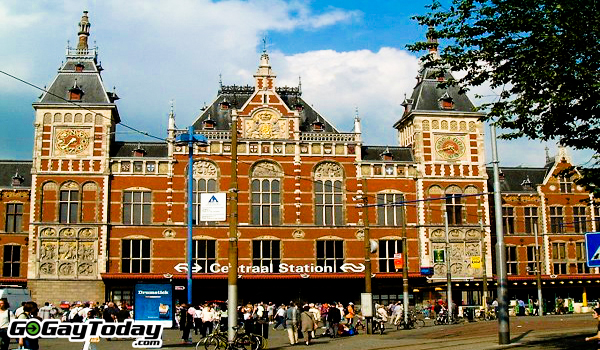 Outside of the old centre there are three more circular canals, Herengracht, Keizersgracht and Prinsengracht. These are excellent to walk as they are lined with the city's authentic gabled houses, with the Herengracht being the grandest, especially along the Golden Crescent. Keep in mind that the canals radiate out in alphabetical order, so it's never difficult to work out where you are!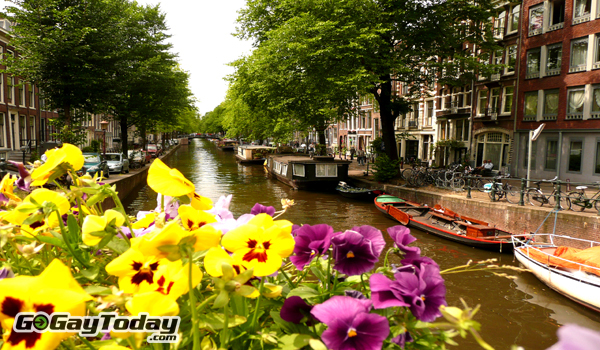 The busy Amsterdam Schiphol Airport is a major gateway for many U.S. airlines, which makes it a great city to start your European adventure. Amsterdam is one of the smaller European capitals in size, but it is a favorite gay hotspot, and is in close proximity to London and Paris. Just hop on a high-speed train and you will be in Paris and London in just a few hours.  Get your airport arrival and departure transfers HERE.
Today's Amsterdam is progressive, tolerant and particularly welcoming to gays and lesbians, who will find affirmation everywhere, from the pink granite triangles of the Homomonument to the gay-specific tourist information booth called Pink Point. It is unrivalled as the liberal epicentre of Europe. No longer the largest gay city in Europe, it never the less still retains its status as one of the most important gay cities of the world and once its delights have been sampled, it will undoubtedly have you yearning to return for more.
The tolerance and open mindedness of the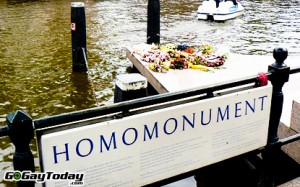 Dutch towards homosexuality is without comparison within Europe and, as such, gay life and culture has flourished all over this small kingdom, most prominently in Amsterdam.  Homosexuality has been legal here since 1911. Adoption for gay couples is also legal, the age of consent is 16 for everyone (gay and straight) and same-sex relationships have had the same status as heterosexual ones since 2001. Now how's that for progressive? People here don't look kindly on religious or political groups telling them what they can't do… so it is a refreshing, open attitude for gays.  One local park, De Oeverlanden, actually has signs pointing to the cruisiest section of the park.
Amsterdam has something for everyone – unique and unusual shopping, vibrant cultural offerings and exciting nightlife,  And finding it all is easy. You can't stand on a corner looking at a map for more than a few moments without a friendly local offering assistance… in English, which is so widely spoken the only Dutch word you'll need to learn is bedankt (or thanks!)  A trip to Amsterdam is not complete without a visit to a world-renowned museum, a boat cruise along the charming canals or a sampling of the local delicacies.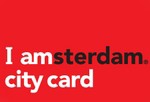 Your I amsterdam city card gets you FREE entrance to Van Gogh Museum, Rembrandth Museum, Hermitage Amsterdam and much more, including giving you unlimited public transportation around the city.  Grab one HERE.
Amsterdam maintains its über-gay status with an active nightlife and busy social calendar that includes summer's Love Dance festival and pride parties, October's leather pride events, and winter's Pink Christmas celebrations.  Gay Pride parade on the canals is not to be missed.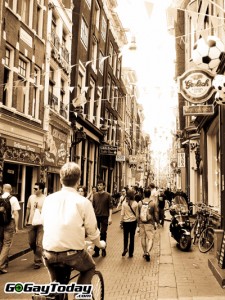 Bike through the string of new man-made islands in the Eastern Harbour, buy some flowers in the floating flower market, shop the quirky fashion boutiques of the Nine Streets area, prowl the art studios of the revitalized NDSM shipping yard, or sample healthy organic foods.  The past, present and future all collide here, with art, architecture, food and fashion.  Take a leisurely 2- or 3-hour bike ride around Amsterdam's typically flat and open city streets – perfect for cycling! Passing alongside the city's charming canals, see the world-famous Rijksmuseum, the Anne Frank House and last, but certainly not least, Amsterdam's infamous Red Light District. Book HERE.
As all of Amsterdam is very gay-friendly, there is no "gay ghetto" common in other cities. Nonetheless, some streets and neighborhoods do have a higher concentration of rainbow flags, tank tops and leather chaps.  The lay out is one of concentric, horseshoe-shaped circles of canals (grachts) alternating with streets (straats). The main train station, Centraal, is at the top of it all. It's a compact city, and most places are within easy walking or biking distance from one another. Cars have a hard time fitting through the narrow streets, but bicycle taxis like Wielertaxi (+31-6-2824-7550) can zip around efficiently. The local tram service is also popular.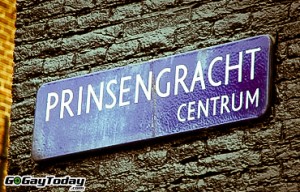 The Amsterdam gay scene is divided into three areas. Around the Reguliersdwarsstraat district, situated on the street of the same name in between the Single and Herengracht canals, close to the Koningsplein Bridge, you'll find trendier bars who are continually opening and closing for even trendier refurbishment.  This a great place to go before going out clubbing. It's virtually next door to Downtown which is great for a coffee, breakfast or lunch. Just down the street is Exit a busy club which has been recently refurbished. Gay everynight it boasts a large pub on the ground floor, a smallish dancefloor and a very busy backroom. There are quite a few restaurants in the street popular with a large gay clientele as well as Amsterdam's busiest gay bar Soho.
Along the Amstel River and the adjacent Halvemaansteeg, you'll find an amiable mix of younger – older guys and anyone else who loves to drink a beer while listening (or singing along) to music. There's a far more traditional scene round the Amstel and the Rembrandtsplein. The Amstel Taveerne is one of the oldest gay pubs in Holland.
There's a much heavier leather scene around the Warmoesstraat which can be found just off the Dam Square down the street from the Grand Hotel Krasnapolsky. The leather crowd frequents here, in the heart of Amsterdam's infamous red light district.The bars are all around the start of the Red Light District so be prepared to be the subject of stares from hordes of American and Japanese tourists being herded through the streets of sex shops and prostitutes in windows. Most of the bars boast busy backrooms and a leather dress code and look out for the Web, Argos and Eagle. An excellent club which is not exclusively leather is the Cockring which opens at 11pm. The other bars usually open around 2pm.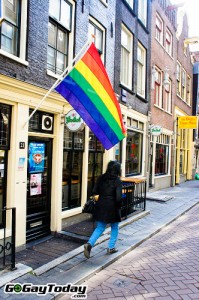 The oldest and traditional gay area in Amsterdam is situated around Kerkstraat, which is close to the Leidseplein Bridge in between the Keizersgracht and Prinsengracht canals. This district has many of the gay guesthouses and hotels situated here and has the most cosy and low key atmosphere of the gay areas of the city.  As well as the many choices for accommodation you can also find gay shops, restaurants and cafes in the area which has a distinctly 'village' ambience. You can also find the famous Thermos night and day saunas here, which are reputedly the largest in Europe!  The gay bars here offer a distinctly traditional atmosphere and it makes for a great place to start your evening as it is popular with both tourists and the local Dutch clientele.
The Jordaan district is another quiet neighborhood, home to numerous cafés, bookstores and some excellent shopping.
Some things to see and do -
Start your day at one of Amsterdam's classic pancake houses for a delicious eye-opener that's unavailable at your local IHOP. t' Singeltje (Singel 494; +31-20-625-3916; 11 a.m.-6 p.m.; 4-9 EUR) serves massive pancakes with rum raisins, chocolate or Gran Mariner — plus plenty of what makes a real Dutch pancake: black stroop molasses.
Singel Flower Market, where locals go to shop and people-watch among the kaleidoscopic displays of tulips and roses.  Visit the Keukenhof Gardens and Tulip farm.
Rembrandt House Museum (Jodenbreestraat 4; +31-20-520-0400, fax +31-20-520-0401; 8 EUR), former residence of the Dutch master, now home to hundreds of his drawings and paintings.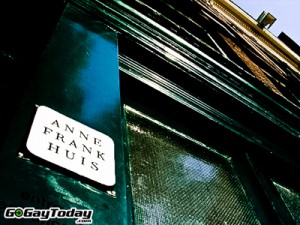 Anne Frank Huis (Prinsengracht 267; +31-20-556-7100). A moving tribute to the young diarist, it draws more tourists than all the other museums in Amsterdam combined (arrive early to miss the crowds, or come during the evening in the summer, when it's open until 9 p.m.). Or just buy your tickets HERE and SKIP the very very long line that forms every day. Just around the corner is the pink triangle Homomonument (Westermarkt Square), a tribute to homosexuals persecuted everywhere (including those who died under Hitler's regime) — it's equally moving because of its precedent-setting status as the only monument of its kind in the world. The monument is characterized by its triangular dock jutting into the canal.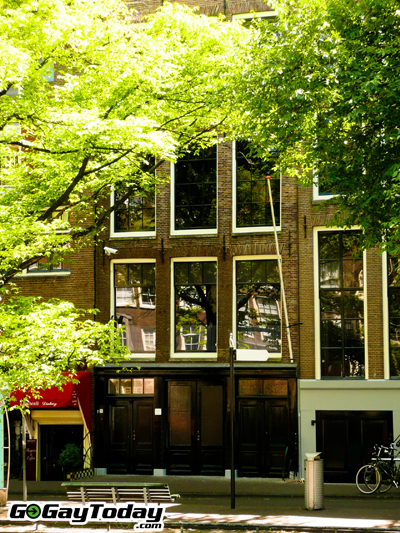 On the Amstel River is Café De Jaren (Nieuwe Doelenstraat 20; +31-20-625-5771; 10 a.m.-1 a.m.; 5-17 EUR), one of those Paris-inspired, two-story "grand cafés" with breezy balconies packed with students from the nearby university. They serve sandwiches, great coffee and drinks throughout the day, and reasonable international fare and salads in the evenings.
The Amstel Taveerne (Amstel 54; +31-20-623-4254; Sun-Thu 5 p.m.-1 a.m., Fri-Sat 5 p.m.-3 a.m.) is the oldest gay bar in Amsterdam. It packs in Dutch men of all ages for sing-alongs every night of the week; on weekends, they often spill out onto the sidewalks in bawdy reverie along the Amstel River. Around the corner, Montmartre (Halvemaansteeg 17; +31-20-620-7622; Sun -Thu 5 p.m.-1 a.m., Fri-Sat 5 p.m.-3 a.m.) is a popular little brother to the Amstel Taveerne. Expect very young and very old men dancing, drinking and getting giddy to campy Dutch pop standards and recent American dance tunes — especially on Saturday.
Nearby, the Mix Café (Amstel 50; +31-20-420-3388; Sun-Thu 8 p.m.-3 a.m., Fri 6 p.m.-4 a.m., Sat 8 p.m.-4 a.m.) actually lives up to its name, drawing a festive crowd of gay boys, straight girls, gay girls and even a few "straight-but-not-narrow" men. Vive la Vie (Amstelstraat 7; +31-20-624-0114; Sun-Thu 12 noon-1 a.m., Fri-Sat 12 noon-3 a.m.), one of several women's bars that have gone mixed, is packed on weekends with a mob of singing lesbians and a few male friends. All along the Amstel are a number of small, friendly pubs — pop your head in to see what's up.
Remember to book ahead when dining out in Amsterdam, and be on time: Most restaurant kitchens close around 10 p.m.
A night out in Amsterdam could begin any number of adventures. Gather information on local bars and events at the Pink Point, next to the Homomonument (corner of Keizersgracht and Westermarkt; +31-20-428-1070; daily noon-6 p.m.; closed Tues-Wed in Jan/Feb), the publishers of The Bent Guide to Gay and Lesbian Amsterdam.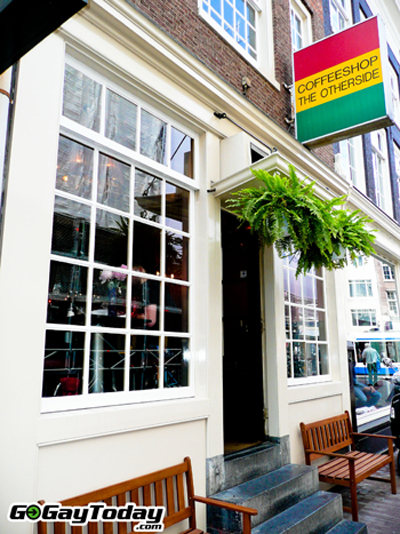 You might also want to explore one of Amsterdam's, ahem, "coffeehouses," which actually serve something more potent — marijuana and hashish. Try The Other Side (Reguliersdwarsstraat 6; +31-20-421-1014; daily 11 a.m.-1 a.m.; 10-25 EUR), a particularly gay-friendly marijuana emporium, and as good as place as any to spark up. The vibe is casual; the clientele a mix of friendly tourists and local hipsters. The menu lists 20 varieties, describing origin, flavor and effects. Choose from Skunk, Skull, Purple Haze, Space Cake and more.
Head down the Reguliersdwarsstraat to Soho (Reguliersdwarsstraat 36; +31-20-422-3312; Sun-Thu 6 p.m.-2 a.m., Fri-Sat 6 p.m.-4 a.m.), which draws trendy young boys (and a few girls) with its posh mahogany and leather chairs — not to mention its nightly two-for-one drinks from 10 to 11 p.m.  Across the street, April (Reguliersdwarsstraat 37; +31-20-625-9572; Sun-Thu 2 p.m.-1 a.m., Fri-Sat 2 p.m.-2 a.m.) packs in men of all ages with its popular happy hours (6-7 p.m.), especially Sunday afternoon (6-8 p.m.), when the crowd fills the street. Carouse to a techno soundtrack at the Cockring (Warmoesstraat 96; +31-20-12345-6789; Sun-Thu 11 p.m.-4 a.m., Fri-Sat 11 p.m.-5 a.m.; cover 3.50-5 EUR), a very cruisy bar that attracts the nightly leftovers of leather men and well-groomed (and usually well-buzzed) lads from the twinkie bars over on the Reguliersdwarsstraat. Be prepared to wait in line for a while.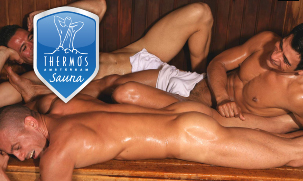 Thermos Day Sauna (Raamstraat 33; +31-20-623-9158; Mon-Fri 12 p.m.-11 p.m., Sat-Sun 12 p.m.-10 p.m.) for its friendly atmosphere, beautiful Old World feel (lots of tiles) and spartan cleanliness. In addition to a swimming pool and rooftop terrace, there's a bar, café video room and even an attached hair and massage salon. One complaint visitors repeat is the many stairs you have to climb — but that's typical for old Dutch buildings.
Vondelpark, with acres of green, leafy open space to jog, skate, bike or simply wander. Catch your breath at a great outdoor café called Vertigo (Vondel Park 3; +31-20-612-3021; 2-15 EUR) in the park at the Film Museum — it's packed with the buff and the beautiful relaxing after (or instead of) their weekend workouts. Since we know you haven't had your fill of culture yet, you're just steps away from Amsterdam's famous Museumplein, home to the superb Van Gogh Museum and the Rijksmuseum. The neighborhood here is also full of fine shops, good food and friendly cafés.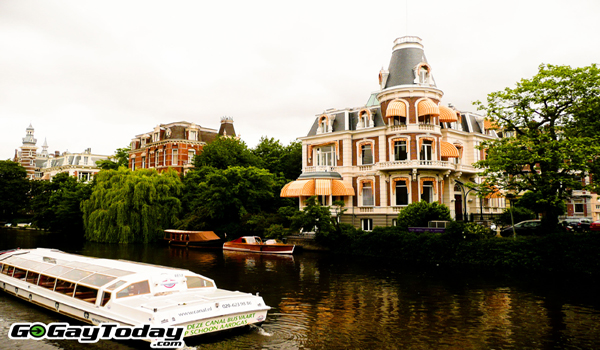 For the best shopping, you've got to hit up the famous day markets. Among the best and most renowned is Albert Cuyp Market (Albert-Cuypstraat), where you'll find everything from fish to fabrics. For a more mainstream, high-end shopping experience, stroll along the P.C. Hooftstraat, home to plenty of big, familiar retail names and a few you might be happy to discover.
On Warmoesstraat, home to Amsterdam's leather scene, you'll find the Cuckoo's Nest (Nieuwezijds Kolk 6; +31-20-627-1752; Sun-Thu 1 p.m.-1 a.m., Fri-Sat 1 p.m.-2 a.m.), with its cellar playroom, or The Web (Sint Jacobsstraat 6; +31-20-623-6758; Sun-Thu 2 p.m.-1 a.m., Fri-Sat 2 p.m.-3 a.m.), with its rooftop garden. A favorite among travelers seems to be Wednesday's "Dildo Lottery." Later, go hardcore at The Eagle (Warmoesstraat 90; +31-20-627-8634; Sun-Thu 10 p.m.-4 a.m., Fri-Sat 10 p.m.-5 a.m.), where you have to buzz a little doorbell on the nondescript stoop. Buy your drink as soon as you enter, or risk staff ire. Also on Warmoesstraat you'll find leather shops and bars like Dirty Dicks, Cockring, Stablemaster and Argos.Buy your Amsterdam card today and enjoy the following great benefits!